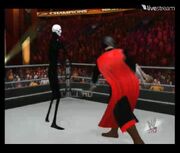 Highlight match of the evening.
Long nearly 30 minutes battle with a lot of comebacks and heavy use of items.
Highlight of the match: Skelenegro used Jew Magic to summon his minion - Gaben, who turned against his master as flaming table looked like lit up BBQ but with no food on it. In hunger-rage Gaben slapped around his boss and went back to the locker room.
Finally Ezio applied a ragefilled Swagditore DDT and killed the unkillable Skeleafricanamerican!