Billy Mays

Billy Mays here, breaking your back!
/v/WE Character
Titles
Rigger, Triple Crown Champion (disputed)
Series
Real life
Allies
JeWario, Robotnik
Enemies
Billy "The Rigger" Mays was originally one of the first wrestlers to join the /V/WE and was able to aquire many followers.
Billy Mays is also famed for being the first wrestler to win a 6 Way Champions Match, making him the first undisputed Champion. After winning the World Hea/v/yweight Championship from Albert Wesker and the Jew Crew winning the Tag Team Championship on February 9th, he became the first Triple Crown Champion in the /v/WE (however, Mays did not participate in any of the Jew Crew's matches that day, so this could be disputed).
It's also believed Billy Mays is a half-bear, given his girth and incredible amount of body hair.
After fierce fighting against
Ezio
on 6th February, it is suspected that Billy is member of Templar Order. This was reinforced in Ezio's match against Big Boss, where the Rigger rushed the ring to attack Ezio.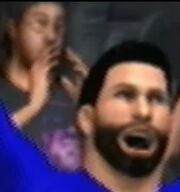 Origin of "The Rigger" Nickname
Edit
Mays got his nickname, "The Rigger" from a match where he hit the referee to the ground. He was then pinned and the referee began counting, slowly due to Mays's interference, and Mays just kicked out of the pin at around 2.9, leading to believe that Mays had rigged the match beforehand. Whether the ref bump was intentional or not is still under investigation although some sources say they overheard Mays in the locker room say he would try to win that match.
Vidya Wrestling Career
Edit
After developing a rivalry with Wario, it was suspected he'd help with bringing him down.
It turned out, however, that Mays was Wario's henchman all along, presumably after receiving a hefty sum.
After his game changing appearances and moves like the legendary DDT on the chair in Wario's matches, the nickname "The Rigger" only became more suitable for Mays.
Billy ascended to God Tier in the second part of the 1/31 TTafter staying in for over half of the wrestlers, and overall causing mass RAW UNMITIGATED POWER, until he was stopped by Gaben.
On February 9th Billy Mays won the World Hea/v/yweight Title from Albert Wesker.
He is a member of the Jew Crew, though he has yet to participate in any matches. It is believed that he acts as a sort of manager for the team, preparing them through arcane Jewish rituals involving Kaboom, Mighty Putty and Awesome Augers.
On February 16th Billy lost the hea/v/yweight championship to Guile. Who used a surprising amount of jew tactics.
On March 1st, Billy won another Royal Rumble, but this rumble had been decidedly rigged, due to the inability to use reversals for this match.
In Vidya Wrestling
Edit
Finishing Maneuvers:
"KA-BOOM!" (360 Samoan Drop Pin)
Signature Moves:
"DING KING!" (Enzuigiri Pin)
"BIG CITY SLIDER" (Baseball Slide into Backwards DDT)
Is quite known for interupting a lot of matches.
Is surprisingly durable, even without roids.
1x Rumble! Overall MVP Award (1/31/12 #2)
1x Rumble! Longest Standing Award (1/31/12 #2)
1x Rumble! Most Eliminations Award (1/31/12 #2)
thumb|300px|right|Theme Song