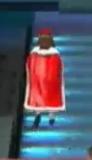 The Burger King (also known as "El Rey De Las Hamburgesas" in Spanish) made his /v/WE debut on January 27th, 2012.
Video Game Wrestling Career
Edit
After a saddening performance at the Royal Rumble on Janurary 27th, 2012 that would determine the #1 Contender to Fox's /v/WE Championship, Burger King was quickly eliminated and was confirmed for "shit tier". OP/Streamer/Mike Erector said The King would be quickly deleted from the game, and went through with his promise the following evening.