Captain Falcon

Captain Falcon after an amazing victory at the Elimination Chamber event.
/v/WE Character
Titles
Royal Rumble Winner
Series
F-Zero
Allies
Other peoples moves
Enemies
Captain Falcon (also known as C. Falcon, Captain Falcone or Hero of The People) is one of the /v/WE originals, making his appearance at one of the first Royal Rumble matches. He is also a doctor at Planned Parenthood, because Falcon Punch has been proven to be 100% effective against teen pregnancy.

When it comes to recent Royal Rumble matches that are post January 30th, Captain Falcon is surprisingly below average or average compared to the more dominant wrasslers, but he did win one Royal Rumble in the finale episode of Season 1. He is still popular with the viewers of /v/WE because of his status of being one thing..
CAPTAIN FALCON.
In Other Media
Edit
Captain Falcon is the main representative of the F-Zero video game series.
In Vidya Game Wrestling
Edit
Finishing Maneuvers:
Falcon Punch (Charged Fist to the Skull)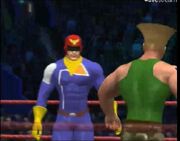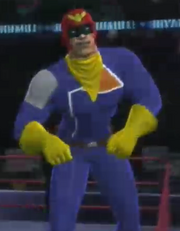 Theme Song
Edit
His performances have been degrading over the past weeks. Suggesting he's getting to old for this shit.
HAHAHA, DISREGARD THAT-FALCON IS THE PEOPLE'S CHAMPION.