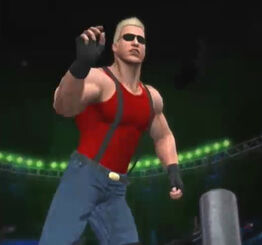 "It's time to kick ass and chew bubblegum, and I'm all out of gum."
Duke Nukem, AKA as Douk Nuckem, is a popular wrestler of the /v/WE, famous for his many showdowns in the Royal Rumble. He is the current Hea/v/yweight Champion.
He has won the Royal rumble once, and held the /v/WE Championship one time after defeating Solid Snake with a continuous barrage of Lou Thez presses.
He lost his championship to the next Royal Rumble winner, Adam Jensen.
After a long bout of obscurity, he returned to prominence in a Fatal 4 Way match between himself, Liquid Snake, Gaben and Woody. Being the runner-up to Liquid, Duke earned a shot against Guile for the WHC. After an intense match, Duke prevailed to become a champion once again, proving that you should always occasionally bet on Duke.
Background
Edit
After the recent failures of Duke Nukem Forever and the crash of The DNE(Duke Nukem Enterprise). Mr. Nukem found himself in another "tight" situation, both money and women wise. His balls of steel turned to balls of blue! After a long while of drinking and fucking traps he found Skelenegro who would promise him, bitches, riches and fuckin" snitches. He joined the /v/we to become his former self. His fighting styles are the mighty boot and huge fistings to the face, watch out for Duke Nukem in the ring or its done like dinner motherfucker!
Permanently banned from the diva's locker room.
Shed a bloody tear on his championship match against Guile. Some say it's a tribute to the late Woody.
Theme song
Edit