"GET A LOAD OF GET A LOAD OF GET A LOAD OF THIS!"
Dr. Ivo "The Professor" Robotnik - known as "Eggman" on an on-and-off basis - is a newcomer to the /V/WE roster. He joined on January 27th, 2012 and managed to make quite the explosive debut by entering at #30 in the Rumble and defeating a particularly tenacious Solid Snake in the Royal Rumble, earning the right to face Faux; the reigning Champion. His victory was met with much ire from the audience, but Robotnik faced the crowd being alpha as fuck.
He is currently a Member of The Jew Crew, the current Tag Team Champions.
As of 07/03/2012, he was deemed one of the people's heroes as he faced death and made him blink by saving the world from Albert Wesker's attempt to saturate the earth.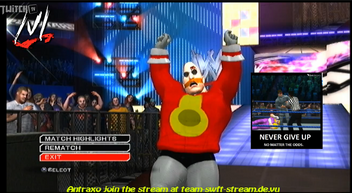 He was always made fun of as a kid because of his egg shaped penis Pingas. This caused him to gain massive weight and browse the internets /v/ until his bedtime came. One day when he was stroking his eggcellent featured face, he thought of a plan to find a blue fast rival, in which he met Sonic.
After nearly getting his ass kicked by Solid Snake, he was allowed to face the champion, Fox McCloud. Cheered by some, and booed by others, he swiftly gave Faux the ass-kicking of a lifetime, and thus became /v/WE Champion. After a shocking Debut and a quick victory over the former Champion Fox to become the /v/WE Champion, as well as absolutely destroying every opponent in the ring during his title reign, it seems like Robotnik may be a big force to deal with.
Jew-Magic
Edit
During the match with Jean-Luc Picard in a table factory, Robotnik proved to have jewish magic flowing through his oval body by igniting a table on fire, which, to much surprise, instantly knocked the fuck out of Picard by a gentle push motherfucking throw in said table.
Currently, the only other champion said to have Jew-Magic is Wario.
However, it seems Picard could be half-jewish given he has the same wind-up punch as Wario and the same dirty tricks, although his actions stay under the radar unless he beings to prove his worth.
Behaviour in the ring
Edit
Attacks on Referees have made the impression of the Professor having a heel persona but his actions of sportsmanship after single championship matches have left many confused.
Theme song
Edit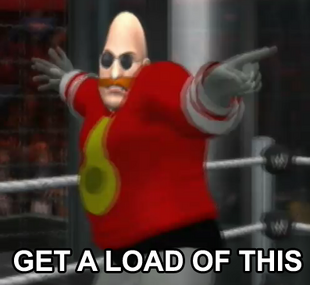 Seems to honorably refrain from using his machines and robots in /v/we, but still fights rather dirty.
Is known to have his Master Plan

™ active at all times.
Sometimes, the Master Plan™ fails. Robotnik refuses to explain these occasions.

Really fucking hates hedgehogs.