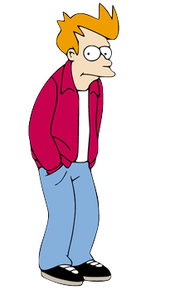 Phillip J. Fry, more commonly known by his nickname and last name of "Fry", is a /v/WE wrassler who made his debut with Team Futurama against The Power Rangers in a 3v3 match.
Fry is an able fighter, although has only appeared sparingly so far in the /v/WE tournaments in favour of more popular fighters, and the future of his career is at this point unknown.
Signature Moves
Edit
Insert joke about asking for 19.95 + tip
Affiliated Teams
Edit
Was forced to take steroids to get rid of his crappy stats by our loveable announcer, Mike.