A legendary title match that took place on January 27, 2012 between defending chamions Team TF2 and the then newly formed Team Fauxhound. The match saw Team Fauxhound become /v/WE Tag Team Champions and was Faux's first Championship in the /v/WE.
Background
Edit
Fox McCloud, along with Sanic and Crash Bandicoot formed Team Furry to challenge Team TF2 for the Tag Team Championship. The match took place in the Elmination Chamber and saw Team TF2 in control. Team Furry put up a fight, but the outcome was inevitable. Sanic and Crash were both eliminated, leaving Faux alone against all three members of Team TF2. Rather than quickly pinning him and ending the match, Team TF2 gave Faux a brutal beating.
The Match
Edit
[[Solid Snake|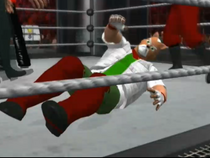 Solid Snake]], having known that feel in his match against
Grove Street
, offered Faux a chance to form a new team with himself and
Raiden
. Faux accepted and the newly formed Team Fauxhound challenged Team TF2 for the Championship. Once again, the match took place in the Elimination Chamber. The match was even, but Team TF2 gained the upper hand when Raiden was pinned out. Faux and Snake soon found themselves in an all too familiar situation, with Team TF2 dishing out a heavy beatdown. Despite their disadvantage, Snake and Faux perservered. With Scout thrown to the opposite corner of the ring and Pyro busy with Faux, Solid Snake was able to eliminate Heavy. Snake and Faux were quick to capitalize, with Scout and Pyro being pinned within seconds. What had seemed another brutal beatdown had become a legendary and heroic victory.
Aftermath
Edit
As of now, Team Fauxhound still holds the Tag Team championship.
After the match, Faux went on to challenge Donkey Kong for the /v/WE Championship and won much to everyone's surprise.