"HULK DOSE YOU!"
The Hulk Doseman is a minor fighter of /v/WE, who didn't do anything truly relevant apart from participating in many Battle Royales. He has however won a Royal Rumble before, but his solo career has been going downhill ever since.
Hoovy changed his GAMMA rays to BETA rays in Royal Rumble at 27th January 2012
On 31/1/12 Royal Rumble, he beat Raiden in a 1v1 using a powerbomb to devastate viewers let alone his opponent. (Someone better have captured that)
Later that evening he took on the Grove Street Families with the other members of Team Green and Dosed . Once Vegeta had finally succumbed to the 1v3 pressure, Hulk kept up the fight until The Doctor himself could deliver a good dosing. They managed to dominate the opposition even with the disadvantage of fighting without a third member and Hulk pinned Ryder after chokeslamming him three times in a row.
Thanks to Hulk's merciless onslaught and
Piccolo's
extra strength prescriptions they managed to secure a win for the team.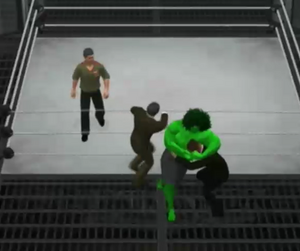 Proved his medical credentials during the rumble on Feburary 16th, when he repeatedly plunged his fist deep into Eggman's bulbous anus.
Once received a BRUTAL beatdown in a three on one match, yet held out like no one else did before. almost even pinning a few people.