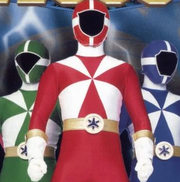 The Power Rangers, consisting of
Red
,
Blue
and
Green
, made their debut against
Team Futurama
on the 30th of January 2012. This team is now defunct.
First Fight
Edit
The first fight for The Power Rangers was poor, resulting in both Green and Blue Ranger losing to pinfall, thus leaving Red Ranger, who is considered the stronger of the three to fend for himself against his opponents. The match was quicky turned in Team Futurama's favor due to the advantage of numbers.
Aftermath and Red Ranger's solo career
Edit
The Ranger group have not been seen together since their first fight, and it is rumoured that there are rifts between the members due to the events that took place against Team Futurama, and how well they work together as a group. This is however, speculation. The Red Ranger is the only member who seems to have taken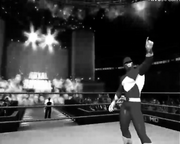 the fight well, dispatching
The Stig
in his first solo event, eventually climbing his way to a title shot against
Wario
.
The future of the group remains uncertain, however you can be sure this is not the last we will see of the Rangers
This is the last that was seen of the Power Rangers, Green and Blue have been fired and Red Ranger is now a member of Deputy team along with Woody and Buzz Lightyear.