The Roster, as of: March 8th, 5:00PM EST is as followed:
NOTE: This is the CURRENT roster. All previous /v/WE talent will be mentioned later down the page.
Current Roster
Edit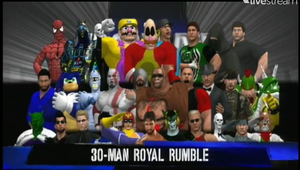 The current Tier list which compares performance of each of the characters on this roster can be found here.
Former Belligerents
Edit
The /v/WE has but limited space on its ever changing roster. Some people just don't make the cut. The /v/WE would like to take this opportunity to wish the following wrestlers the best in all of their future endeavours:
Woody (deceased)
Jackie Chan (deceased)
Red Ranger (deceased)
Buzz Lightyear (deceased)
Crash Bandicoot (deceased)
Man of Color in a Chicken Suit
Tommy Vercetti
Jackie Chan
Various colours of Skelenegro
Kirby
Superman
Boba Fett
Robocop
Gordon "Episode 3" Freeman
Jean-Claude "Hardly Appeared" Van Damme
Naruto
Pikachu
Ronald McDonald
The Fury
Agent 47